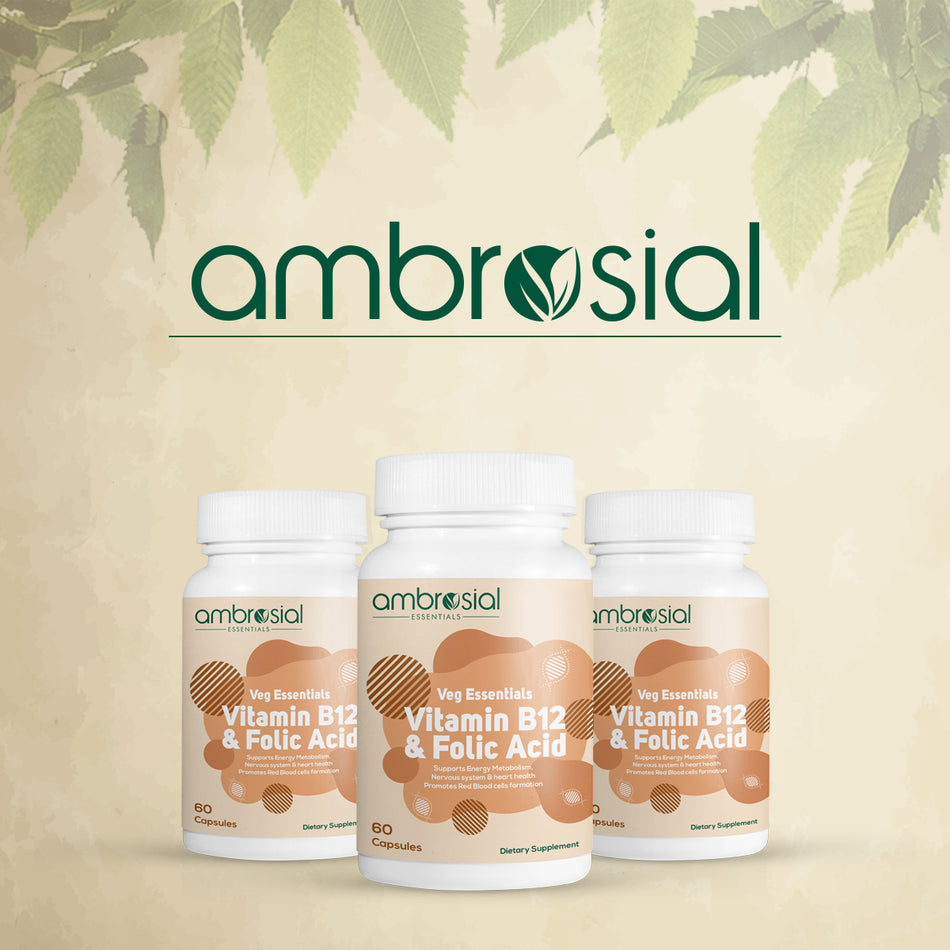 Looking for the best Vitamin B12 supplement? Look no further than Ambrosial Vitamin B12 with Folic Acid. Our premium formula combines the power of Methylcobalamin, the most bioavailable form of B12, with the benefits of Folic Acid.
Key Benefits of Vitamin B12 with Folic Acid:
Energy Boost: Vitamin B12 plays a crucial role in converting food into energy, supporting healthy metabolism, and reducing fatigue. Combined with Folic Acid, it provides a powerful energy boost to help you stay active throughout the day.

Nervous System Support: Vitamin B12 is essential for the proper functioning of the nervous system. It helps maintain the health of nerve cells and promotes optimal cognitive function and mental clarity.

Red Blood Cell Production: B12 tablets are vital for the production of red blood cells, which carry oxygen throughout the body. Adequate B12 levels support healthy blood cells and contribute to overall well-being.

Heart Health: Folic Acid, also known as Vitamin B9, plays a crucial role in heart health. It helps lower homocysteine levels, reducing the risk of cardiovascular problems. Combined with Vitamin B12, it provides comprehensive support for a healthy heart.
Why Choose Ambrosial's Vitamin B12 with Folic Acid:
Best B12 Supplement: Our formula contains Methylcobalamin, the superior form of B12 known for its high bioavailability and absorption. It ensures maximum effectiveness and delivers the best results.

B12 Folate Supplement: By combining Vitamin B12 with Folic Acid, we offer a comprehensive supplement that supports both B12 and folate levels in the body. This combination provides synergistic benefits for optimal health.

Premium Quality: Our Vitamin B12 with Folic Acid is made with the highest quality ingredients and undergoes rigorous testing to ensure purity and potency. It is free from artificial additives and is suitable for vegetarians and vegans.

Easy-to-Take Tablets: Our convenient Vitamin B12 tablets are easy to swallow and can be incorporated into your daily routine effortlessly. Just take one capsule daily with a meal to support your B12 and folate needs.
Experience the benefits of the best Vitamin B12 supplement with Ambrosial Vitamin B12 with Folic Acid. Take a step towards better energy, cognitive function, and overall health. Choose Ambrosial for the best Vitamin B12 tablets on the market.



Safety Information
Store in a cool , dry place & away from direct sunlight.
Serving Recommendation
As a dietary Supplement for adults , 1-2 capsules a day or as recommended by your Physician.