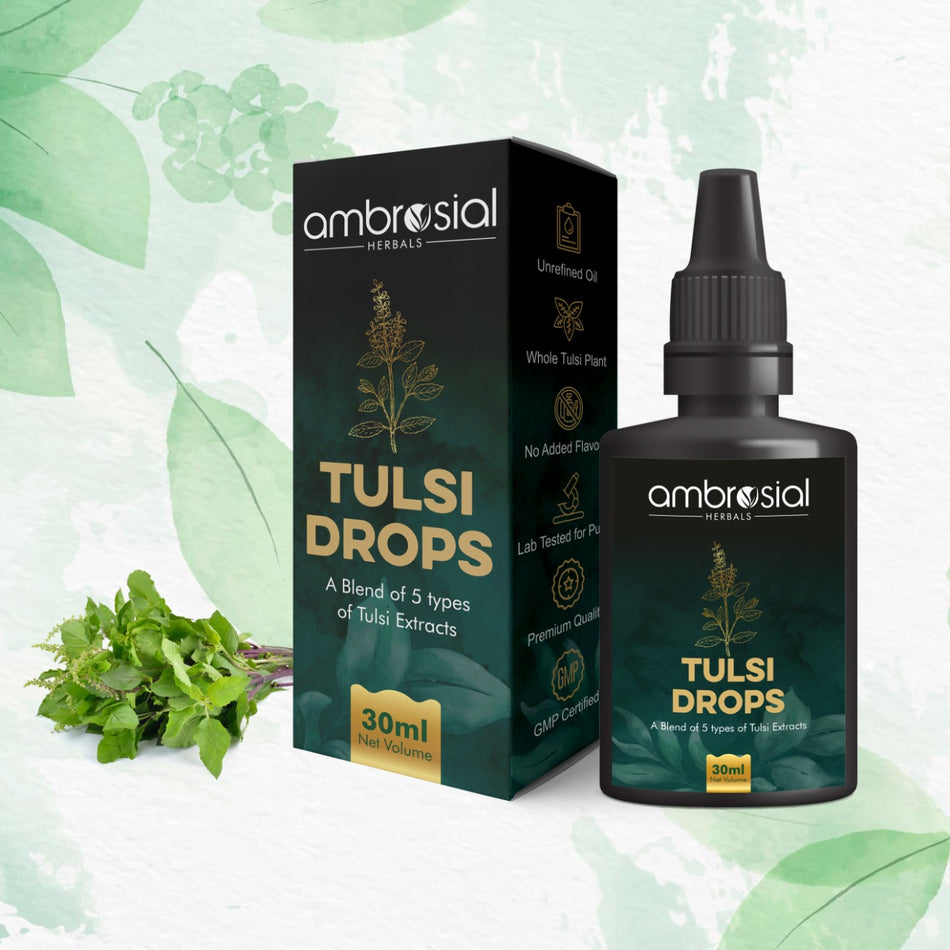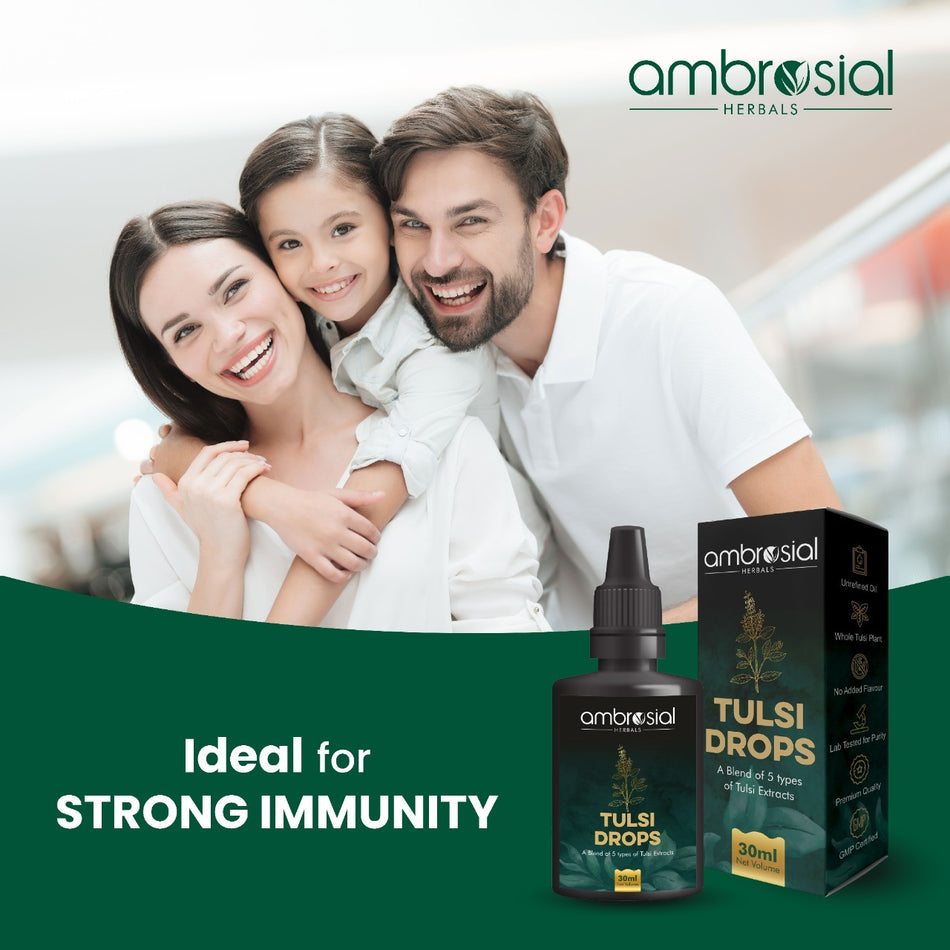 Tulsi Drops- 50% Extra: Purified Extract Of 5 Rare Tulsi For Natural Immunity Boosting & Cough & Cold Relief 30 ml
🌿 

WHAT MAKES OUR TULSI DROP BETTER? It comprises 5 rare Tulsi Herbs of the best grade as holy drops. Tulsi is recognized in India as the "Queen of Ancient Herbs" for its ability to boost immunity, clear nasal congestion, ease cough, and cold symptoms, and SUPPORT OVERALL HEALTH.

🌿 

IMMUNITY BOOSTER AYURVEDIC - Tulsi is abundant in Vitamin C and Zinc, both of which help to boost immunity and prevent infections. It acts as HERBAL COUGH AND COLD RELIEF MEDICINE and assists in the maintenance of a strong immune system against all cough and congestion relief.

🌿 

HOW DO You EAT?? 5-8 drops in a glass of lukewarm water, milk, or tea Adults can take this Natural Tulsi Drop 2-3 times per day, and it is also suitable for children. Ayurveda claims that OVERALL Health is protected by drinking fresh water with Panch Tulsia Drops on daily basis.

🌿 

GENERAL HEALTH Benefit - We provide you with Concentrated Extracts of 5 types of Rare Tulsi Herbs - Vantulsi, Shyama Tulsi, Rama Tulsi, Nimbu Tulsi, and Barberi - each of which is recognized for its unique set of health benefits. Weight loss, stress relief, robust Digestive Health, Joints Health, Heart Health, and many more general health benefits are all possible with this amazing mix of 5 powerful Tulsi species. 

🌿 

100% VEGETARIAN & SUGAR-FREE - Ambrosial's Tulsi Drops are chemical-free and infused with Ayurveda. Manufactured in a WHO-GMP compliant manufacturing facility that is completely FSSAI licensed. It's completely vegan, and it only takes 2 minutes of your time to maintain and enhance your OVERALL HEALTH.
Buy Ambrosial Tulsi Drops online within UAE, including Dubai, Abu Dhabi, and Sharjah, and we also get this delivered to Saudi, Oman, Bahrain, Qatar, Kuwait, etc.
Safety Information
Store in a cool , dry place & away from direct sunlight.
Serving Recommendation
As a dietary Supplement for adults , 1-2 capsules a day or as recommended by your Physician.