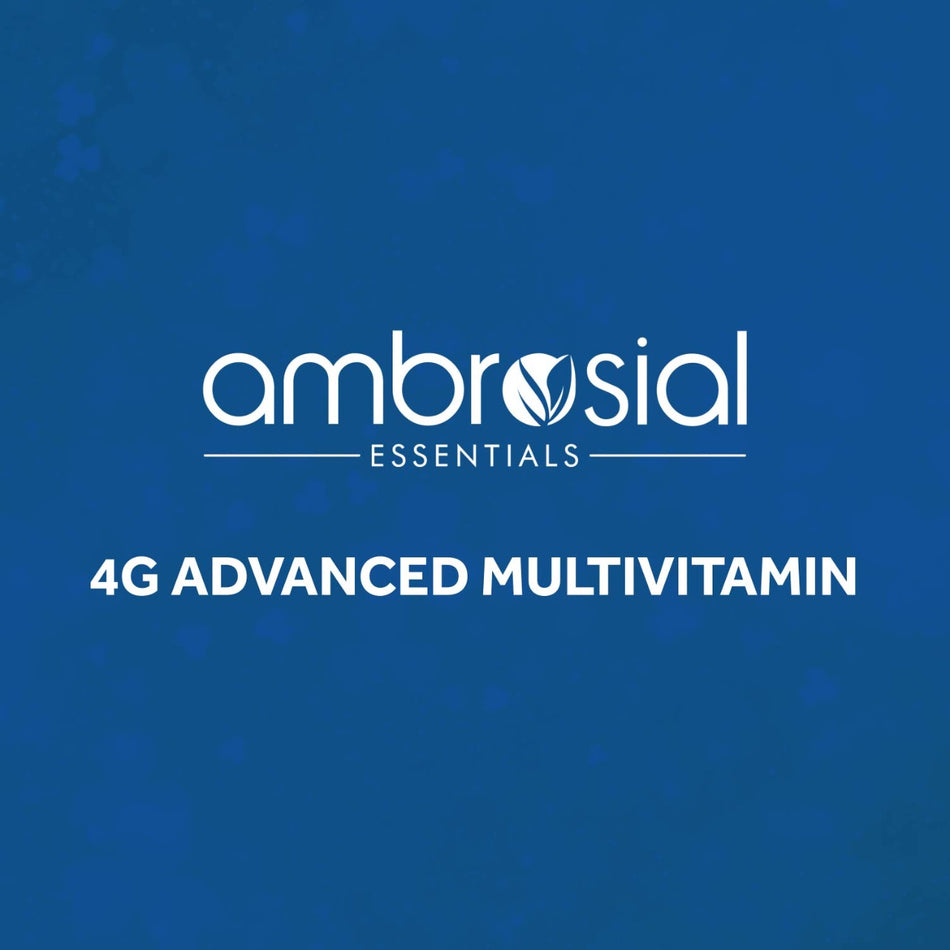 Ambrosial 4G Advanced Multivitamin Tablets for Men & Women, with 45 Essential Active Vitamins & Minerals
Are you looking to enhance your overall health and well-being? Look no further than Ambrosial 4G Advanced Multivitamin. Our premium multivitamin supplement offers a perfect blend of essential vitamins, minerals, and powerful natural extracts, including Grape Seed Extracts, Green Tea Extracts, Ginkgo Biloba, and Ginseng.

Key Benefits and Ingredients:

Grape Seed Extracts

: Strengthen bones, promote bone health, and provide antioxidant benefits.

Green Tea Extracts

: Rich in antioxidants, support cellular health and boost metabolism.
Ginkgo Biloba: Aid cognitive function and support memory and focus.

Ginseng

: Lower inflammatory indicators and promote overall vitality.
Weight-Loss Support and Enhanced Wellness:

Ambrosial 4G Advanced Multivitamin supplement also contains Chlorogenic Acid derived from Green Coffee Bean Extracts, which offers weight-loss benefits. Combined with our meticulously formulated blend of natural ingredients, this multivitamin tablets can help you achieve your wellness goals.

Comprehensive Nutrition for Men and Women:

Designed to cater to the nutritional needs of both men and women, Ambrosial 4G Advanced Multivitamin supplements provides a complete range of 45 vital vitamins and minerals. Experience the benefits of key vitamins such as vision-improving Vitamin A, immunity-boosting Vitamin C, blood cell-supporting Vitamin B12, as well as essential minerals including Magnesium, Zinc, and others.

Omega-3 Fatty Acids for Heart and Brain Health:

We haven't overlooked the importance of Omega-3 Fatty Acids (EPA & DHA). Ambrosial advanced multivitamins for men & women are enriched with these essential fatty acids, known for their anti-inflammatory properties, reducing the risk of cardiovascular disease, and promoting optimal brain function and eyesight over time.

Quality and Convenience:

Ambrosial 4G Advanced Multivitamin supplement come in easy-to-swallow soft gels. We take great care in the production and packaging process, ensuring the highest quality standards are met. With Ambrosial, you can trust that you're getting a product crafted with your health and satisfaction in mind.

Start your journey towards optimal health today with Ambrosial 4G Advanced Multivitamin tablets. Experience the power of comprehensive nutrition and unlock a healthier, more vibrant lifestyle.
Safety Information
Store in a cool , dry place & away from direct sunlight.
Serving Recommendation
As a dietary Supplement for adults , 1-2 capsules a day or as recommended by your Physician.